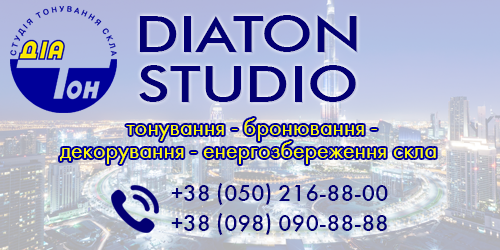 About company
Welcome at our web-site!
Window tinting studio DIATON occupies with sale and professional window tinting with high-performance window films all over Ukraine since 2003.
Films by DIATON extends the functional limits of window panes giving them new properties.






Thus, a window pane with new properties provided by DIATON protect premises, guarantee controlled environment and comfort, improves the aesthetics of buildings.
DIATON uses in its production only high-quality materials from world manufacturers, who continuously improve their technologies, expand and upgrade their production facilities. All types of films retain over 97% of UV rays.
DIATON Studio gives consultations free of charge and bears guarantee obligations to customers.
DIATON Studio is distinguished by high quality of services, flexibility, maneuverability and high level of professionalism at customer support.
DIATON' services are certified (Certificate ОДС - 169/П issued on 17.10.2017)
We will be glad to cooperate with you and answer your questions and offers!

DIATON.UA - MARKET LEADER
toning and the armoring
glass in Ukraine